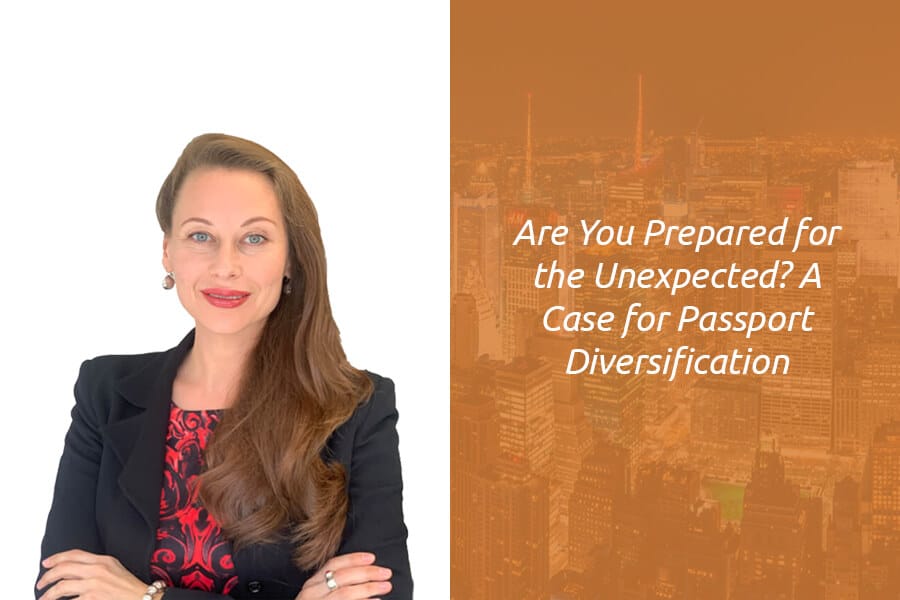 "Don't put all your eggs in one basket" is the best investment advice you will ever receive from your private banker when it comes to asset allocation. The Coronavirus pandemic has shown that investors must now consider another diversification as a first line of defence against extreme circumstances: geographical diversification through passports and residency permits.
Bet your future on a single passport and you risk being literally stuck and unable to leave to access better health services and a safe haven for your family.
"We received our Caribbean passports just days before the lockdown and were able to travel at very short notice as a family to a safe country with low pandemic rate and good medical services. Only a second citizenship can give that security."
The above remarks from a Russian client whose family received Caribbean passports just before the COVID-19 outbreak with the help of Beyond Residence and Citizenship succinctly sum up this new approach to risk diversification. Even at the peak of the crisis, countries that sealed their border shut continued to admit their own nationals returning, while most national airlines maintained at least some flights to capital cities. International mobility during such an unprecedented time of crisis was only possible through residency or citizenship in another country.
PANDEMIC SHOWS THE NEED FOR PASSPORT AND RESIDENCY DIVERSIFICATION
"Passport and residency diversification can be an important weapon in the armoury of every long-term investor to protect against unprecedented risks with extreme impact, such as the coronavirus pandemic," says Tatiana Tolstaia, managing director of Beyond Residence and Citizenship in UK, an industry-leading provider of bespoke investment migration solutions for high net worth individuals and their families.
"Real estate-linked investment migration programmes in countries with secure healthcare systems have proven themselves to be a reliable risk tool for investors looking for stability, safety and long-term security in turbulent times," adds Ms Tolstaia, an experienced lawyer by profession who is well-versed on the subjects of risk mitigation and liability limitation.
Restriction on travel has always been one of the reasons fuelling demand for second passports. However the pandemic has highlighted a more urgent need for second passports that can mean the difference between life and death for some. A second passport has now taken on a new significance: the ability to escape at a moment's notice to a safe place that offers advanced medical services.
Ms Tolstaia said the crisis is forcing high net worth individuals to reassess their global mobility options, and how best to safeguard their families and wealth against future shocks by diversifying via real estate-linked investment migration programmes.
Just like a conventional asset class portfolio diversification via shares, bonds and alternative investments, passport or residency diversification helps investors spread the risk across geographies. In the case of a pandemic, it allows them to move freely to countries with better healthcare and greater infrastructure resilience.
The pandemic has wreaked havoc on the global economy, with financial markets taking their biggest hit since the 2008 recession.
Just like high-quality government bonds, passports of top nations can provide investors with a safe haven during unprecedented turmoil. Moreover, if your passport unexpectedly underperforms during a crisis, blocking you from being globally mobile, then a safe haven passport or residency ensures you are not caught with a single egg in your basket.
"That's why you shouldn't bank the house on a single passport," says Ms Tolstaia. "Individual country passports may be vulnerable to natural disasters, unexpected changes in legislation, political and economic upheaval. These are real risks that can be diversified through real estate-linked investment migration options. Not to mention other benefits such as visa-free travel and business opportunities as well as future-proofing by passing down citizenship benefits to next generations."
Wealthy investors all over the world are looking at realigning their investment portfolios in the face of continuing stock market volatility and the oil price slump to plan for their family's future. In that context, residency and citizenship planning has become more important than ever as families look at diversifying risk, says Ms Tolstaia.
In further financial upside, properties purchased as part of residency programmes can also be leveraged for short- and long-term rental returns.
Ms Tolstaia says record interest in citizenship by investment schemes during the pandemic shows that more and more wealthy individuals are looking to citizenship by investment as a way of reallocating their asset portfolios. By having citizenship of another nation, individuals can launch new business ventures, or expand their existing operations into the country, giving them even greater financial security. This also applies to their families, as they can all apply to obtain citizenship together in most cases.
In the case of COVID-19, smaller countries and island nations have continued their popularity with investors, says Ms Tolstaia. It is not surprising that an investor would feel safer in Antigua, Barbuda or St Kitts Nevis which all have fewer than 100,000 residents each, compared to countries with mega metropol cities.
Cyprus and Malta have also remained in demand during the pandemic as they had low rates of infection, good infrastructure and world-class healthcare facilities, Ms Tolstaia adds. There was also demand for citizenship of Vanuatu , a South Pacific Ocean nation of some 80 islands with coral reefs and underwater caverns which remained totally Coronavirus-free during the pandemic.
Beyond Residence and Immigration has more than 30 years' experience structuring investment migration solutions with the world's leading citizenship and residency programmes.
Residency programmes give investors a legal status and the right to live, work, and study in a country. Some countries like Cyprus also extend beneficial tax laws to non-citizens. Often, investors need to spend a certain amount of time in the country to retain residency status, and residency can lead to citizenship status. Benefits, which include high-quality healthcare and education, also extend to family members.
Citizenship, on the other hand, gives investors all of the rights and privileges of that country, is permanent and can be passed down future generations. Citizenship entitles the holder to a second passport for life and there are no minimum stay requirements.
Some countries such as Portugal only offer residency by investment programmes which can lead to citizenship later. Having dual residency or citizenship can also make financial sense as countries which offer citizenship or residency by investment programmes tend to have favourable tax regimes.
Beyond Residence and Citizenship offers investment migration solutions in nearly 30 countries around the world including UK, EU, Caribbean nations as well as Turkey. For further information, please go to www.beyondimmigration.com and www.beyondimmigration.ru