St. Lucia Passport Requirements
A Brief Introduction to St Lucia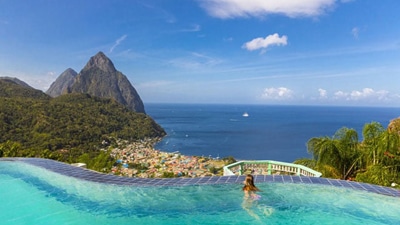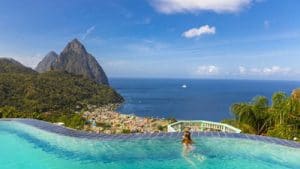 Blessed with a beautiful landscape and lush vegetation and lapped by azure ocean, St Lucia has geographical and cultural capability enough to exceed far larger nations. Despite such wonders, it remains pleasantly down-to-earth and displays its beauty to enthralled travellers with nonchalance.
Despite its name, St Lucia is really two islands in one. In the north of the island, Rodney Bay offers visitors lazy days in the sun along with all of the comforts a modern traveller can wish for amid a gorgeous bay. The crystal-clear water and soft blonde sand stretch out to embrace the horizon, beckoning beachgoers to soak in St Lucia's warm sun-soaked waves.
In the West can be found St Lucia's luscious western coast, home to a number of luxurious resorts. Here, chocolate is not only a local specialty, it is a part of daily life. Along with a generous sampling of local products, we highly recommend a chocolate massage at the Kai en Ciel Spa to complete the experience.
In the south lies Soufrière, the old capital of St Lucia and home quaint old plantations, secreted beaches and the twin geologic wonders of the heroically-proportioned Pitons – mountainous volcanic spires that reach up towards the cerulean sky. For those seeking a break from the tranquillity or looking to travel around the area, the action is never too far – Miami is just three hours away by plane.
The benefits of acquiring St Lucian citizenship by investment include visa free travel to 146 countries around the world, including Europe's Schengen Area. Whether as a summer retreat, an occasional holiday destination or your next home, St Lucia's gentle waters welcome all who reach its generous shores.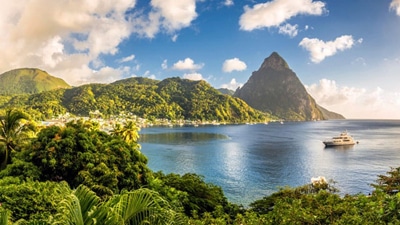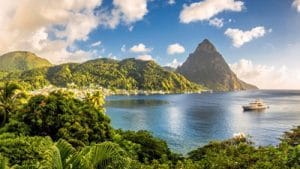 Benefits of St
Lucian Citizenship
St. Lucia Citizenship
Program Requirements
CIP requires the applicant to make a significant economic contribution to the country. In exchange, and subject to a thorough application procedure including due diligence and background verification checks, the applicants and their families are granted full citizenship.
To qualify for citizenship, the main applicant must be over 18 years of age, meet all of the application conditions and satisfy the investment requirements. There are currently four routes to obtaining citizenship through the CIP programme:
Key Features of the St Lucia Citizenship by Investment Program
Your sun-soaked gateway to the world
One of the key benefits of applying for St Lucian citizenship is that St Lucia passport holders enjoy visa-free access to 146 countries worldwide including the UK, Europe's Schengen Area, Hong Kong and Singapore. It is an attractive place to holiday, and is the destination of choice of distinguished individuals worldwide. Enjoy your second home by the sea, or take full advantage of travelling the world in complete confidence. Why not both?
Application Timeline for the St Lucia Citizenship by Investment Program
St. Lucia Visa
Free

Countries
You can visit 146 Countries with St. Lucia Citizenship.
Andorra
Anguilla
Antigua and Barbuda
Argentina
Armenia *
Aruba
Austria
Bahamas
Bangladesh *
Barbados
Belgium
Belize
Bermuda
Bolivia *
Bonaire; St. Eustatius and Saba
Bosnia and Herzegovina
Botswana
British Virgin Islands
Bulgaria
Cambodia *
Cape Verde Islands *
Cayman Islands
Chile
Colombia
Comores Islands *
Cook Islands
Costa Rica
Croatia
Cuba
Curacao
Cyprus
Czech Republic
Denmark
Dominica
Dominican Republic
Ecuador
Egypt *
El Salvador
Estonia
Eswatini (Swaziland)
Faroe Islands
Fiji
Finland
France
French Guiana
French Polynesia
French West Indies
Gambia
Germany
Gibraltar
Greece
Greenland
Grenada
Guatemala
Guinea-Bissau *
Guyana
Haiti
Honduras
Hong Kong (SAR China)
Hungary
Iceland
Indonesia
Iran *
Ireland
Israel
Italy
Jamaica
Jordan *
Kenya
Kiribati
Kosovo
Laos *
Latvia
Lesotho
Liechtenstein
Lithuania
Luxembourg
Macao (SAR China) *
Madagascar *
Malawi
Malaysia
Maldives *
Malta
Mauritania *
Mauritius
Mayotte
Micronesia
Moldova
Monaco
Montenegro
Montserrat
Mozambique *
Nepal *
Netherlands
New Caledonia
Nicaragua
Niue
Norway
Pakistan **
Palau Islands *
Palestinian Territory
Panama
Peru
Philippines
Poland
Portugal
Reunion
Romania
Rwanda *
Samoa *
San Marino
Senegal
Seychelles *
Sierra Leone *
Singapore
Slovakia
Slovenia
Solomon Islands *
Somalia *
South Korea
Spain
Sri Lanka **
St. Helena *
St. Kitts and Nevis
St. Maarten
St. Vincent and the Grenadines
Suriname
Sweden
Switzerland
Taiwan
Tanzania
Timor-Leste *
Togo *
Tonga *
Trinidad and Tobago
Tunisia
Turks and Caicos Islands
Tuvalu *
Uganda *
United Kingdom
Uzbekistan
Vanuatu
Vatican City
Venezuela
Zambia
Zimbabwe