Turkey Citizenship by Investment
A Brief Introduction to Turkey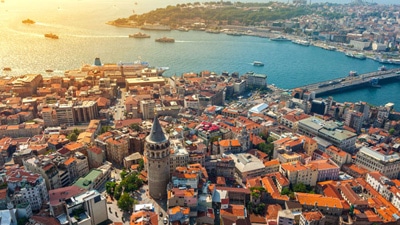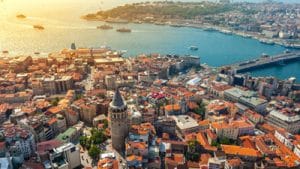 Turkey's warm, sunny climes ensure that it remains a popular tourist hotspot, but it is so much more than just a resort destination. From ancient Ephesus (Efes) to the magnificent curve of Aya Sofya's Byzantine dome, Turkey is home to many world-famous cultural and historic monuments. Influenced by an impressive list of historical figures and civilisations – the Romans, Byzantines and Ottomans – have all left their distinctive marks on this important stop along the Silk Road. Experiencing this mighty legacy for yourself from İstanbul's sprawling Topkapı Palace to the mysterious Lycian ruins is just one of the many benefits of obtaining Turkish citizenship by investment.
The country boasts a plethora of picturesque landscapes, but perhaps the most beautiful is to be found in Asian Anatolia, where visitors can enjoy breathtaking vistas provided by the sheer Mediterranean coastline and Cappadocia's rocky 'fairy chimney' formations and wavy valleys provide an otherwordly view.
Turkey offers activities to suit every any taste. Soak in the warm sapphire waters of Patarap or kayak over Kekova's sunken ruins. Take to the skies in a hot-air balloon ride over Cappadocia or trek along the Lycian Way. In Turkey, adventure, relaxation and cultural enrichment are never far from view.
The Turkish citizenship program provides enviable opportunities to also access the UK and USA. In order to apply for a Turkish passport, the program requires that an investor elects to either deposit funds in a Turkish financial institution or purchase property. The reduced investment amount, fast-paced process and flourishing real estate market makes the Turkish program an increasingly popular citizenship solution.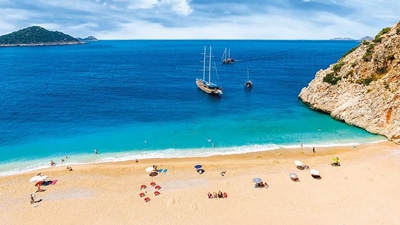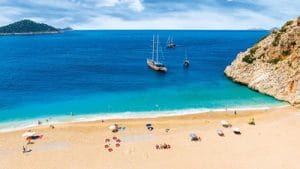 Benefits of
Turkish Citizenship
Turkish Citizenship Program Requirements
Turkey's CIP requires the applicant to make a significant economic contribution to the country. In exchange, and subject to a thorough application procedure including due diligence and background verification checks, the applicants and their families are granted full citizenship.
To qualify for citizenship, the main applicant must be over 18 years of age, meet all of the application conditions and satisfy the investment requirements. There are currently two routes to obtaining citizenship through the CIP programme:
Key Features of the Turkish Citizenship by Investment Program
Your gateway to the UK, USA and beyond
Turkish passport holders are eligible to apply for a Turkish Businessperson visa, a unique opportunity to reside and acquire permanent residence in the United Kingdom available only to Turkish citizens. For those wishing to reside in the United States of America, Turkish citizenship also offers the opportunity to apply for an E-2 visa, the quickest and most efficient way to gain a long term residence visa in the United States. While the simplicity of making a deposit at a Turkish financial institution may be attractive for some, obtaining Turkish citizenship by property investment currently remains the most popular option among investors.
Application Timeline for the Turkish Citizenship by Investment Program
Turkey Visa
Free

Countries
You can visit 110 Countries with Turkey Citizenship.
Albania
Antigua and Barbuda
Argentina
Armenia *
Azerbaijan
Bahamas
Bahrain *
Bangladesh *
Barbados
Belarus
Belize
Bolivia
Bosnia and Herzegovina
Botswana
Brazil
British Virgin Islands
Brunei
Cambodia *
Cape Verde Islands *
Chile
Colombia
Comores Islands *
Cook Islands
Costa Rica
Dominica
Dominican Republic
Ecuador
El Salvador
Eswatini (Swaziland)
Fiji
Gabon *
Gambia
Georgia
Guatemala
Guinea-Bissau *
Haiti
Honduras
Hong Kong (SAR China)
Indonesia
Iran
Jamaica
Japan
Jordan
Kazakhstan
Kenya *
Kosovo
Kuwait *
Kyrgyzstan
Laos *
Lebanon *
Macao (SAR China)
Madagascar *
Malaysia
Maldives *
Marshall Islands *
Mauritania *
Mauritius
Mexico **
Micronesia
Moldova
Mongolia
Montenegro
Morocco
Mozambique *
Namibia *
Nepal *
Nicaragua
Niue
North Macedonia
Pakistan **
Palau Islands *
Panama
Paraguay
Peru
Philippines
Qatar
Rwanda *
Samoa *
Sao Tome and Principe
Senegal
Serbia
Seychelles *
Sierra Leone *
Singapore
Somalia *
South Africa
South Korea
Sri Lanka **
St. Kitts and Nevis
St. Lucia
St. Vincent and the Grenadines
Sudan *
Taiwan *
Tajikistan *
Tanzania *
Thailand
Timor-Leste *
Togo *
Tonga *
Trinidad and Tobago
Tunisia
Tuvalu *
Uganda *
Ukraine
Uruguay
Uzbekistan
Vanuatu
Venezuela
Zambia *
Zimbabwe *