St. Kitts and Nevis Citizenship Benefits
A Brief Introduction to St Kitts & Nevis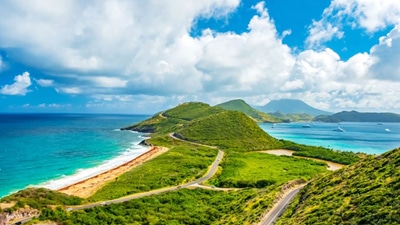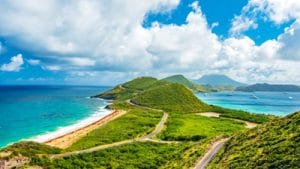 Though it is the smallest nation in the Caribbean, St Kitts & Nevis leaves a big impression on all who travel here. Boasting warm climates year-round, world-class golf courses, ivory sand beaches and stunning tropical rainforests, there's a lot more to these sister islands than meets the eye.
The smaller of the two islands, Nevis, is home to monkeys, originally from Africa and left here by French colonists. A thriving eco-tourism industry attracts visitors from all over the world.
The larger of the two, St. Kitts divides naturally into two halves. The north is mountainous and home to picturesque villages and former sugar plantations. The south of the island is more developed and is best place to enjoy the island's beaches. The most popular with locals is Frigate Bay South, which houses the area's main tourist hotels and is home to The Strip – an avenue of beachfront bars and restaurants that offer a relaxed atmosphere by day and a vibrant entertainment scene by night.
Sand Bank beach on the south-east peninsula has white sand, a private beach club, and just a scattering of houses behind it. Nearby, Turtle Beach is perfect for swimming and snorkeling, where schools of dazzling fish swimming can be seen frolicking around its coral reef. The solitude and privacy offered by both islands also attracts many distinguished guests. It would certainly not be outside the realm of possibility to run into Sylvester Stallone or Oprah in an aisle at the local store.
The main benefit of applying for St Kittian citizenship under the citizenship by investment program is visa free travel to over 151 countries worldwide including the United Kingdom and Europe's Schengen Area.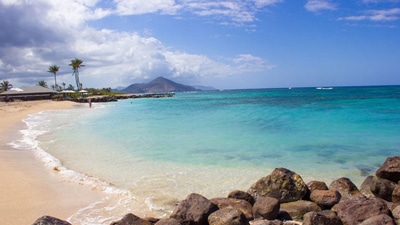 Benefits of
Kittian Citizenship
St. Kitts & Nevis Citizenship
Program Requirements
The St. Kitts CBI Programme requires a person to make a significant economic contribution to the country. In exchange, and subject to a stringent vetting and due diligence process, including thorough background checks, the applicants and their families are granted citizenship.
There are three investment options available to applicants wishing to obtain citizenship of St Kitts & Nevis:
Key Features of the St Kitts & Nevis Citizenship by Investment Program
Your sun-soaked gateway to the world
One of the key benefits of applying for St Kittian citizenship is that St Kitts & Nevis passport holders enjoy visa free access to 152 countries worldwide including the UK, Europe's Schengen Area, Hong Kong, Singapore and Russia. It is an attractive place to holiday, and is the destination of choice of distinguished individuals worldwide. Enjoy your second home by the sea, or take full advantage of travelling the world in complete confidence. Why not both?
Application Timeline for the St Kitts & Nevis Citizenship by Investment Program
St. Kitts & Nevis Visa
Free

Countries
You can visit 156 Countries with St. Kitts & Nevis Citizenship.
Albania
Andorra
Anguilla
Antigua and Barbuda
Argentina
Armenia *
Aruba
Austria
Bahamas
Bangladesh
Barbados
Belarus
Belgium
Belize
Bermuda
Bolivia *
Bonaire; St. Eustatius and Saba
Bosnia and Herzegovina
Botswana
Brazil
British Virgin Islands
Bulgaria
Cambodia *
Cape Verde Islands *
Cayman Islands
Chile
Colombia
Comores Islands *
Cook Islands
Costa Rica
Croatia
Cuba
Curacao
Cyprus
Czech Republic
Denmark
Dominica
Dominican Republic
Ecuador
Egypt *
El Salvador
Estonia
Faroe Islands
Fiji
Finland
France
French Guiana
French Polynesia
French West Indies
Gambia
Georgia
Germany
Gibraltar
Greece
Greenland
Grenada
Guatemala
Guinea-Bissau *
Guyana
Haiti
Honduras
Hong Kong (SAR China)
Hungary
Iceland
Indonesia
Iran *
Ireland
Israel
Italy
Jamaica
Jordan *
Kenya
Kiribati
Kosovo
Laos *
Latvia
Lebanon *
Lesotho
Liechtenstein
Lithuania
Luxembourg
Macao (SAR China) *
Madagascar *
Malawi
Malaysia
Maldives *
Malta
Mauritania *
Mauritius
Mayotte
Micronesia
Moldova
Monaco
Montenegro
Montserrat
Mozambique *
Nepal *
Netherlands
New Caledonia
Nicaragua
Niue
North Macedonia
Norway
Pakistan **
Palau Islands *
Palestinian Territory
Panama
Peru
Philippines
Poland
Portugal
Reunion
Romania
Russian Federation
Rwanda
Samoa *
San Marino
Senegal
Serbia
Seychelles *
Sierra Leone *
Singapore
Slovakia
Slovenia
Solomon Islands *
Somalia *
South Korea
Spain
Sri Lanka **
St. Helena *
St. Lucia
St. Maarten
St. Vincent and the Grenadines
Suriname
Sweden
Switzerland
Taiwan
Tanzania
Timor-Leste *
Togo *
Tonga *
Trinidad and Tobago
Tunisia
Turkey
Turks and Caicos Islands
Tuvalu *
Uganda *
Ukraine
United Kingdom
Uruguay
Uzbekistan
Vanuatu
Vatican City
Venezuela
Zambia
Zimbabwe