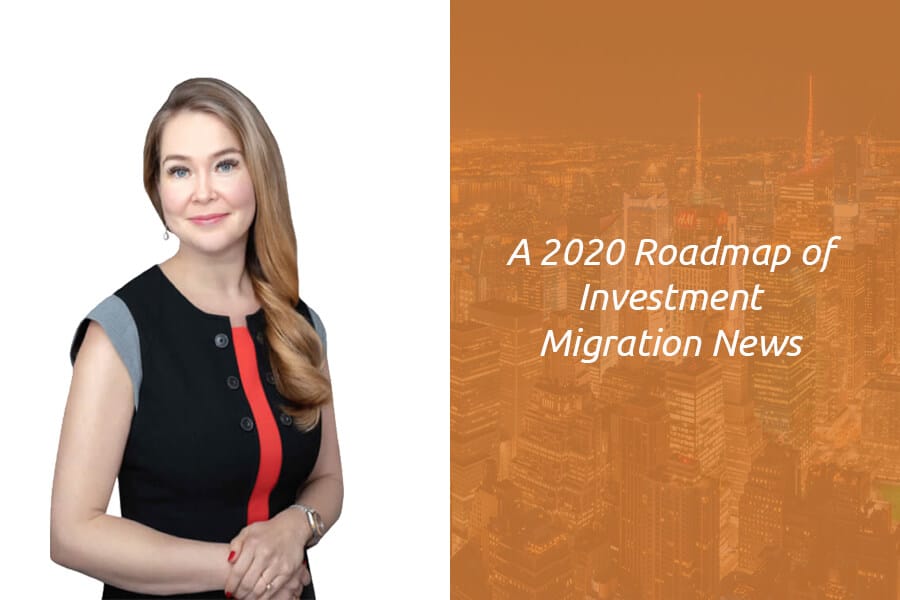 Citizenship by Investment in 2020 with Polina Revzina IMCM
How should tomorrow's investment migrants navigate the current citizenship and residency by investment landscape? Beyond Immigration's Managing Partner in London, Polina Revzina, explores.
Q: As a new decade begins, so too does a fresh era of new trends with potential to disrupt the status quo in business and society. Add in a global pandemic that has forced major changes to everyday life. How has the concept of second citizenship and permanent residency been evolving?
If we look back in time, we will see that a second citizenship was inextricably linked to permanent residency until quite recently in all countries of the world. Everybody knew that in order to live in another country for a long period time and without restrictions, a second passport is required. And that citizenship status could only be obtained after a prolonged, continuous residency in another country.
This is no longer the case, thanks to the development and popularization of the concept of investment citizenship. Although permanent residency and citizenship still often go together, today they can exist separately on their own. Indeed, if we want to leave for another country to live there for a long time or permanently, it is more convenient to obtain the passport of the country where we wish to settle. But what if we have other objectives? For example, a frequent traveler who is fed up with applying for different visas every year, having to wait each time for the decision of a consulate, and wants to get a "universal multi-pass visa" once and for all. What if we do not wish to move permanently but to leave only for a while, for example to see through a period of severe instability, financial crisis or military conflict? Also worth mentioning is those countries which allow visa applications by nationals of only a limited number of nationalities – such as the US E2 visa for which nationals of countries such as Russia are not eligible to apply for. For these situations a second passport can be the solution, and that solution is provided by citizenship experts.
Q: What are the top five programmes in 2020 for simplicity, speed and ease of citizenship approval?
1. Dominica. Citizenship of Dominica, one of the Caribbean countries and part of the British Commonwealth, can be obtained by buying property worth USD 250,000, or by a non-refundable contribution to the country's economy (from USD 100,000). Citizenship can be obtained in about three months. Documents are sent by post so there is no need to visit the country. Dominica passport allows via-free travel to around 140 countries, including the UK and European Union.
2. Cyprus. The Cyprus citizenship by investment programme is the fastest in Europe and highly efficient. Citizenship can be obtained in about eight to nine months. Cyprus is a full member of the European Union and a Cypriot passport allows the freedom to work, travel, study and live anywhere in the EU as well as visa-free access to 173 countries. The list of documents required for citizenship is much more modest compared to other countries. For citizenship you need to buy residential property worth a minimum of two million euros (or commercial real estate from two million euros plus residential to the amount of 500,000 euros), as well as make a donation of 150,000 euros to the budget of the country. You will need to visit Cyprus at least twice: to personally submit documents and to receive the passport
3. Saint Kitts and Nevis. This is another Caribbean state and member of the British Commonwealth. Saint Kitts Investment Citizenship Program is the oldest and the most famous in the world, it has existed since 1984. Requirements: purchase of real estate worth USD 200,000 or donation to the state of USD 150,000. There is no visit requirement, the passport will be sent by post. Citizenship can be obtained in about 10 months. St. Kitts passport offers visa-free travel to 151 countries, including Great Britain and all countries of Europe.
4. UK Investor Visa. I consciously want to mark this programme among the top five, despite the fact that this is a visa for permanent residence, not citizenship (Britain does not have a citizenship by investment programme). To become an investor you need to purchase two million pounds worth of shares or securities of publicly-traded British companies. Application review period is just three weeks, you do not need to take an English proficiency test. Through UK Tier 1 Investor Visa, all family members of the main applicant can live, study and work in England with almost no restrictions. To get permanent residency under this visa category, the applicant must be in the UK for at least 6 months a year. A permanent residency is issued after 5 years, and after 6 years you can obtain citizenship.
5. Malta. To obtain Malta citizenship, a donation of 750,000 euros must be made (this was increased from 650,000 euros however under new rules the purchase of government bonds worth 150,000 euros is no longer required which means the total minimum investment is now lower than previously). Investors must rent or buy property for five years. First, a residence permit is issued, the process is quick and uncomplicated. Second stage is applying for citizenship: the period for consideration of the application is 4-6 months. After the approval for citizenship, we apply for a passport. The total duration of the process is about 14 months. You need to visit the country several times and spend a total of at least 15 days in Malta within 12 months in order to comply with the residency requirements.
Malta cherishes the public image of its programme, and therefore only high net worth individuals with an impeccable reputation can apply for citizenship. Maltese passport is included the top ten passports of the world, it allows you to live, study and work in any EU country and freely enter 180 countries, including the USA.
Q: What are the due diligence rules migration investors must consider?
While governments of the world are guided by various criteria when deciding on citizenship, basic principles of assessment apply to all applicants. Regardless of where the person is from, the authorities will first look at the applicant's resume, business reputation and source of wealth. Authorities will also very carefully scrutinize whether an applicant has a criminal record or any unfinished major litigation, whether or not an applicant is wanted at home or abroad, and whether any individual or group sanctions apply, be it US, EU or other countries. Citizenship will be granted only if due diligence checks prove the applicant's eligibility.
Q: What other considerations must investors have in mind when exploring a second citizenship?
For those who have received a second citizenship as a result of an extended stay in another country, that may lead to a change in tax status. Visa-free travel is a major advantage of obtaining citizenship by investment: Passports of such well-known countries of the British Commonwealth, for example Grenada or Dominica, allow visa-free travel to more than 140 countries, including Great Britain, EU, China, Hong Kong and many others, on the back of bilateral visa-free entry agreements. Holders of passports of Grenada, Dominica, as well as St. Kitts, Antigua and Barbuda and other Caribbean countries can travel without visas, and this one of the main advantages of holding their citizenship. However, if bilateral agreements are terminated, then citizens will automatically lose the right of visa-free entry – for example, citizens of St. Kitts and Nevis lost their visa-free entry to Canada in November 2014 due to the termination of relevant bilateral agreement between countries.
Q: Should citizenship option be considered when making a property investment abroad?
Governments are keen to attract foreign investors to help support domestic economies. In order to attract foreign investors, a number of countries have launched citizenship programs through investments that allow qualification for a passport subject to investment in the country's economy. Such programmes allow applicants to invest private capital in specially determined state assets (stocks, bonds, real estate, land, etc.). In addition to earning an income on investment, the applicant can obtain citizenship. Therefore, in European countries like Greece, Cyprus or Portugal when buying an apartment, house or land it makes sense to consider the possibility of immediately applying for permanent residency or citizenship. Thus, you will kill two birds with one stone, because the risks associated with second citizenship are virtually none, and the potential benefits are very attractive.
Q: Which countries are underestimated in terms of investment and citizenship potential, in your view?
Among European countries with good potential for investment in real estate, I would single out Portugal and Greece. These countries invariably attract millions of tourists every year. Medium sized properties in the capital or resort areas can bring a steady income. By buying real estate in Portugal for 250,000 euros or in Greece from 250,000 euros, you can apply for a residency permit. In Portugal you get permanent residency after five years and you can apply for a passport. In Greece, you can formally apply for citizenship after seven years, but in practice this is unrealistic.
Clients often ask about Montenegro, which launched its citizenship through investment programme a few years ago, but it really kicked off in earnest only in the fall of 2019. Requirements are investment from 250,000 euros in real estate in underdeveloped and remote areas, or from 400,000 euros in real estate in developed areas of the country, plus 100,000 euros as a non-refundable contribution to the budget. The interest in Montenegro is due to the ease of obtaining a residence permit, plus its pleasant climate and friendly population. Despite the fact that Montenegro is located in Central Europe, so far it is not a member of the European Union. This means that your passport today will not give you the right to live or work in the EU. The only advantage of a Montenegro passport at the moment is visa-free access to 126 countries. However Montenegro is in negotiations with the EU to meet the 2025 accession date suggested by the European Commission's enlargement strategy and this passport will be a very valuable document when Montenegro joins the EU.